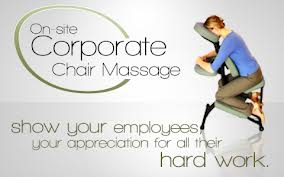 Corporate Massage
Increase productivity and morale through on-site chair massage. Reward your hardworking staff without having to leave the office. Chair massage requires little space and the absence of oils. Blue Haven Massage & Bodywork offers special rates for long term contracts with employers.
Stress is the #1 cause of disability, and costs employers a substantial amount of money each year on lost productivity and healthcare costs. Chair massage is being utilized within many work places as a means of reducing the physical and mental effects of work place stress.
Special events, company parties, whatever the case may be; its the perfect opportunity to utilize the mobility of chair massage!